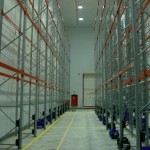 Highly Commended in Green End-User of the Year Awards
Our congratulations to Musgrave's, whose Stg£1.7 million new cold store was judged by the Green End User of the Year Judges to be an exemplary project for saving both energy and carbon in an industrial setting.  Using ammonia as refrigerant, the coldstore was split into two temperature controlled zones, with an ice cream store running on its own compressors at lower suction pressure.
Rapid-rise doors and LED lighting add to an energy saving package that had the judges raving about "excellent attention to detail".